Interview (English) - Mountain Men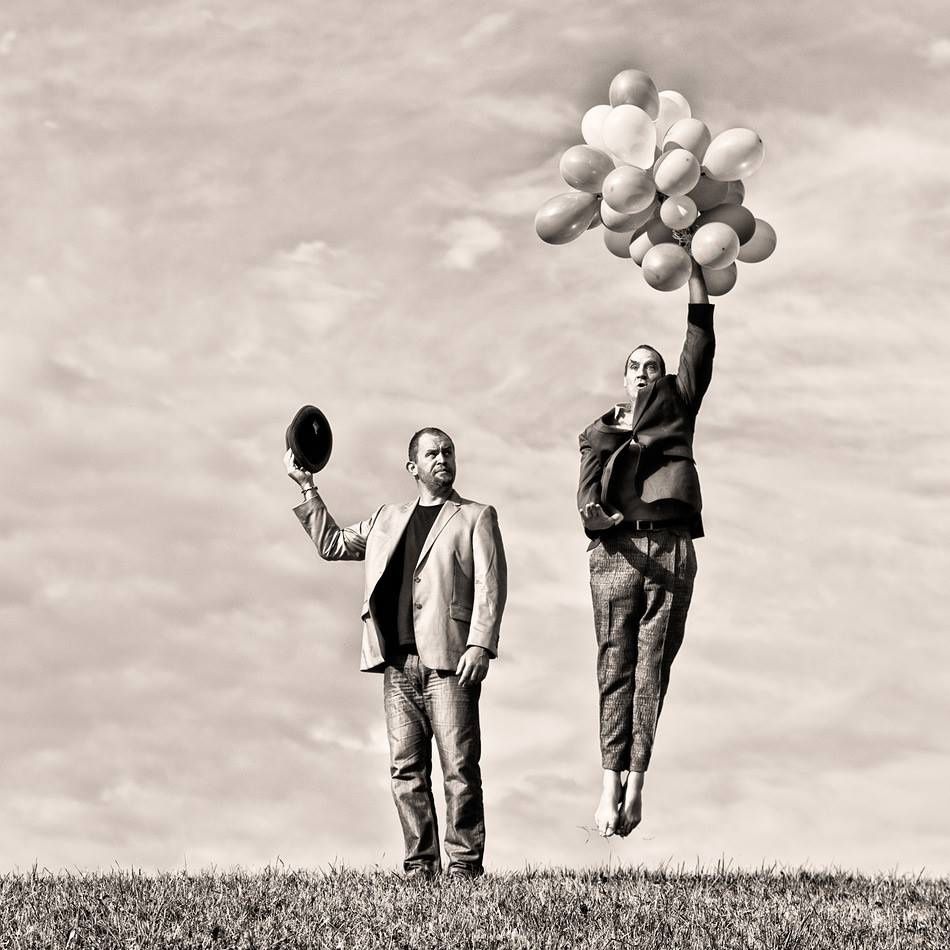 Blues & Folk chose to make you discover Mountain Men, a duo composed of a singer/guitarist (Mr Mat) and a harmonicist (Barefoot Iano). Although the musical style of the band is tough and almost impossible to define, one thing is for sure: it is between blues, french chanson and country. The Franco-Australian duo had realised a previous album with covers of Georges Brassens. They are coming back this year with Against The Wind and new compositions, both in french and english, but also including a memorable Georgia On My Mind. If you want to learn more about Mountain Men, Blues & Folk let you discover our interview with Mr Mat.
Blues&Folk: An harmonica/guitar-vocals duet is rather rare among the current music releases. How did you two meet ? And how did you decide to be a duet ?
Mr Mat: Iano and I met in 2005 in a concert bar, not far from my place, at Saint Pierre de Chartreuse just above the moutains of Grenoble. Ian was performing solo and at the end of the show, he asked if someone wanted to take his guitar and play so I introduced myself, and asked him if he felt like playing harmonica with me to jam. We played for almost two hours, it was a sort of musical revelation. There was such a complicity between us that the idea of a duet became obvious. The Moutain Men adventure real started in 2009 with the launch of our first album, we've almost always been on tour since then.
B&F: How would you define the style of this album ?
M.M.: It's alway hard to define the style of an album in particular. Our music is rather singular, it's a mix of rock, blues, pop, and folk. With Moutain Men we don't put ourselves any limits nor barriers, Against The Wind epitomizes our different influences, from the old pre-war blues to heavy metal, including french chanson, folk, or country music ; It's the Moutainmen's style ;-)
B&F: In the album, we can hear your own rendition of Georgia On My Mind. Why tackling such a music monument ? And how did you work to make it yours ?
M.M.: We've been touring for 6 years now: we performed almost 500 times in France and in many other countries (Italy, USA, Canada, Turkey, Africa, Sweden, Norway, Germany, Croatia...) and we've always been welcomed with opened arms. We got used to play Georgia On My Mind, because it's an amazing song, because that's Ray Charles. After a while, the song became a full part of the show. We decided to record it on this album, trying to stick to the way we played it live. It's a real pleasure to play that song all over again.
B&F: Your last album gathered several covers of Georges Brassens' songs. Where did you find such an eclecticism ?
M.M.: I think we are eclectic because we are passionate about music in the widest sense of the term. I am a real musicaholic, I'm always playing or listening to music and it's the same for Ian. As for Brassens, it's an important part of my life, I listen to his songs a lot, and thanks to Echo Production, our double live album was launched last year. To pay that men a tribute has always been a dream.
B&F: There are both english and french songs in your album, why ?
M.M.: Most of the songs have always been composed in English - it happened naturally and it's a choice we've always been ok with. The idea of singing in French had been in in the back of my mind for a while, but I didn't dare, maybe I was afraid to reveal myself a bit more. Our producer (Mike Dinca) played a major role, he made me realize that I could be confident, and got me to try. We love the result, and it gives us new ideas for the future.
B&F: Can you describe your music career ?
M.M.: As far as I am concerned, Mountain Men is my first project, I used perform live from time to time near my house. I sang Brassens, Brel, and Renaud, twice or 3 times a year. Ian started to play longer before. He played with Graeme Allwright for some time, then with Riké (Sinsémilia's singer) and launched 2 own albums.
B&F: Who are the artists who influenced you the most ? Why ?
M.M.: We have been influenced by many artists : Brassens, Metallica, Tom Waits, Johnny Cash, Renaud, Brel, Charley Patton, Sonny Terry and Brownie Mc Ghee, Bob Dylan, Van Morrison, Bob Marley, Paul Kelly and many others... Every artist influenced us for a different reason : it could be for their writing, their intensity, their tenderness, their strength, or because they were maverick. We love an artist because we find ourselves in what he tells us.
B&F: Both of you have a different way to play on stage : is it prepared or natural ?
M.M.: We are known to be « on stage players », we play with strength, probably because we don't know how to play differently. Yet, our shows are quite calculated, prepared. But we also give some place to freedom and spontaneity.
B&F: Generally, how do you work ?
M.M.: When we are not on tour, we meet in our HQ, a studio near Grenoble, to write, repeat, prepare new songs. But the major part of the work is made on tour. We record our ideas with our smartphone, and we always have a notebook within reach. I often come with musics and we gather to write and organize the different texts. Indeed, we complement one another, and it's a real pleasure.
B&F: We are used to finish our chronicles with a quote. What is your favourite one ?
M.M.: What doesn't kill you makes you stronger / Ce qui ne te tue pas te rend plus fort
Traduction et relecture par Marilou C. et Lucile D.
Discography:
Artist(s): Mountain Men
Album: Hope
Record label: Echo
Format: CD/MP3
Year: 2012
​
Artist(s): Mountain Men
Album: Mountain Men chante Brassens
Record label: Echo
Format: CD
Year: 2014
​
Artist(s): Mountain Men
Album: Against The Wind
Record label: Echo
Format: CD/MP3
Year: 2015
Website of Mountain Men: http://mountain-men.fr/